Represent your brand
Custom donation pages offer a full donation page, or donation form, that your nonprofit can embed on your website. That way, when you've created a strong web presence and give visitors a compelling reason to support your work, you can make it easy for them to donate to your cause with a branded, easy-to-use custom donation page. 
Mightycause's custom donation pages allow you to ensure that your nonprofit's brand is front-and-center.
Your custom donation page is available under "Donations" > "Custom Donation Page"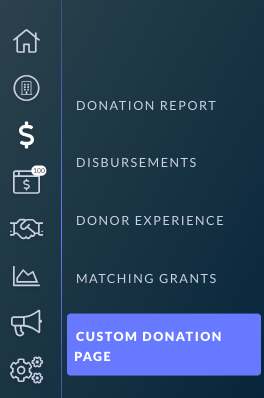 Optimized donation flow
Donate from Any Device
Whether someone donates from a desktop computer, a smartphone or a tablet, your custom donation page will look and function great.
Post Donation Re-Direct
Specify the web address donors that will be redirected to after completing a donation. You can create a thank you page on your website, send them to complete a survey or just send them back to your homepage. This allows you to keep your donors engaged in your nonprofit's online presence and curate your donors' experience.
Recurring Donations
With just one click, your donors can set up secure monthly donations to your nonprofit. Your donors can easily manage their recurring donation from their Mightycause user account. 
Customize Donor Experience Settings for Custom Donation Page Only
Ignore your current Donor Experience settings, allowing you to configure a unique experience for this page only. Add different suggested donations, donation descriptions, or data collection questions.
With custom donation pages, your nonprofit has more control of the information you collect about your donors. You can create a form that captures the data you need by simply turning these options on and off in your Custom Donation Page's settings.