Advanced subscribers have access to the Advanced Questions tab in the "Checkout Flow" tool. This allows your nonprofit to collect even more information from your donors.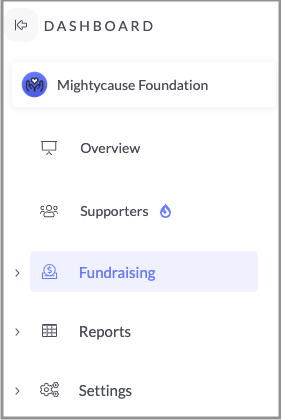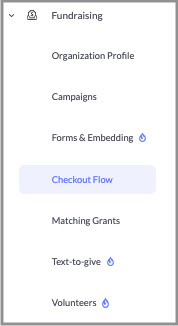 Once within Checkout Flow, select the Advanced Questions tab:

If your nonprofit would like to get to know your donors even better, you have the opportunity to add two additional questions to your checkout flow.
Advanced Donor Questionnaire
Within the Advanced Questions area, we have provided 15 pre-loaded questions you can choose to utilize. These questions will help give you insight into your donors' charitable giving habits, whether they are interested in volunteering, how they prefer to be contacted, and more.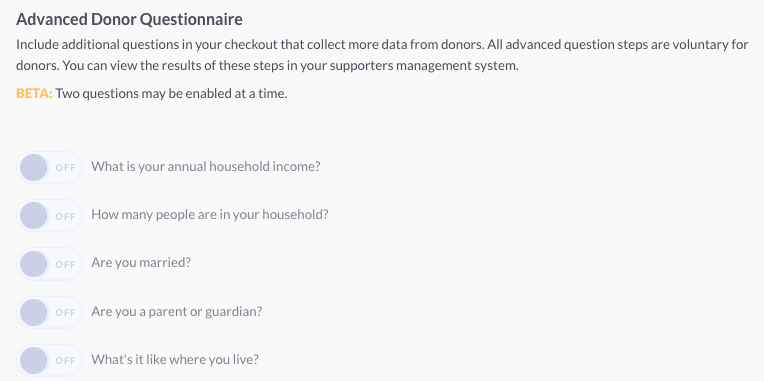 If you would like to create your own question, scroll down to the very bottom.
Custom Questions
Advanced subscribers can create custom questions to ask donors during the checkout process.
Nonprofits can allow donors to answer with a text box, check boxes (which allows donors to choose multiple answers), radio buttons, or a dropdown menu.
When you enter a custom question, you also have the option of making your question an optional question or a required question during the checkout flow. If you would like to make your question optional, make sure to select "Make this question optional."
Need Help?
If you need assistance navigating Advanced Questions or have questions about using any of the tools it contains, contact our support team at support@mightycause.com!