Fundraising takes many forms. We understand that you may receive checks or cash in-person to count towards your fundraiser's goal, too. While Mightycause does not process these donations, we can help you display them in your fundraiser total.
For this reason, you can use the Offline Donations feature on your fundraising page. Please note: This is simply to act as a display feature. These funds are not processed through Mightycause.
Adding an offline donation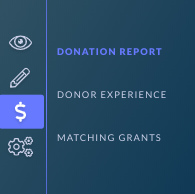 To add an offline donation, go to your fundraising page. Select the Donation Icon, then  click on "Donation Report" on the left-hand sidebar.

You'll see your donation report for your organization or fundraiser. From here, you can click on the "Add offline donation" text with the grey plus icon next to it.
Then, just type in the details of your offline donation. You will be able to input their name (write Anonymous if you want to keep that information private), donation amount, donation date, email address, and source (ie. check, cash, match, sponsor, etc.)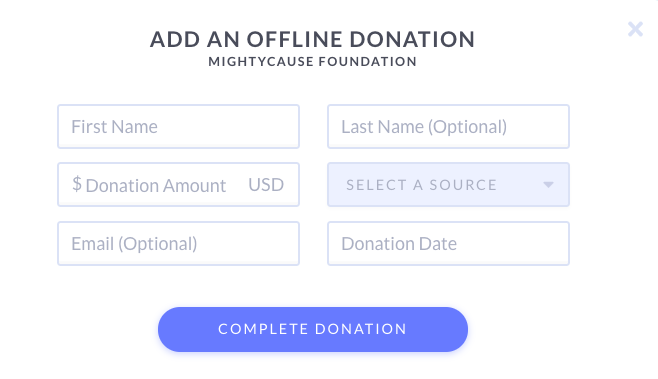 Then just click "Complete Donation" to add it to your display!
This will be added to your fundraiser's display thermometer for supporters to see.
To download a detailed report of these donations, fill in the desired fields and click "Download this range".
Editing/Removing an Offline Donation
It's not possible to edit an offline donation. But, that's OK! You can just delete the old one and add a new one in its place.
To delete an offline donation, just go back to "Donations" > "Donations Report" on the left-hand sidebar. Edit the report range to the desired date, then find the donation listed in your donations report (hint: It will say "Offline Donation" below it).
Then, hover over the donation and an "x" will pop up in the right-hand side of the donation. Click the x, and a message will ask you to confirm that you want to delete the offline donation:
Then, just add a new offline donation with the amended information by following the steps above.
Still having trouble? Contact our support team at support@mightycause.com for more help!