A guide to the settings that will help you customize your nonprofit fundraising website to suit your nonprofit's need
It wouldn't be fair to call your Mightycause portal an "organization page" because it is so much more than just a page: it is a powerful, multifaceted fundraising website that you can customize to suit your nonprofit's needs. The key to unlocking the power of Mightycause is understanding what tools are at your disposal and how to use them. In this Guide article, we'll be going over the tools we've designed to empower your nonprofit to fundraise better and reaching your funding goals faster.
Settings
Your nonprofit's Settings help you control aspects of your page and your presence on Mightycause: You can decide what data you want to collect from donors, manage other users who have admin access to your page on Mightycause, control what displays on your Mightycause page, and even how you receive your disbursements.
To access your Settings, click the gear icons on your Dashboard.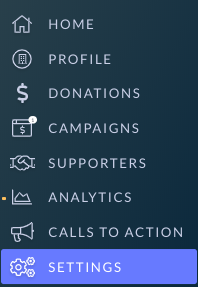 Admin: Once you've been approved as an administrator of your Mightycause page, you can add and approve other admins from Settings. You'll also be able to remove old admins with the click of a button, and see who else has admin privileges.
URL Customization: This allows you to change the URL of your Mightycause page. By default, it will be your organization's legal name, but you can change it to a DBA or shorten it with this tool.
Social Sharing: Customize the image and text social media networks use when someone shares your page.
Legal Name and Mailing Address for Checks: This tool helps you manage how your nonprofit receives disbursements and update your address.
Legal Organization Info: You can submit changes to your legal name on Mightycause, such as your address and your name.
Page Settings
To access your page settings, select the "Profile" icon and then click on "Page Settings". From there you can access several different customization options.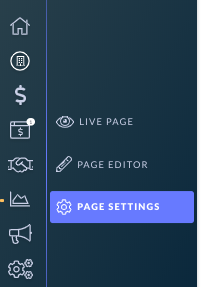 Displayed Metrics: You can control what your Mightycause page displays with this tool. You can decide whether you want the amount of money your nonprofit has raised to display, and if you want to include offline donations in that total. You can also choose whether or not you'd like to display the number of donors you've had on your Mightycause page.

Donors Panel Visibility: Your Donors Panel is the collage of your donors' user profile photos that displays next to your story.
If you don't like this display (or think your donors won't like it), you can change your Donors Panel Visibility setting to "Off" to hide it.
Metrics Calculation: This tool allows you to choose the date your Displayed Metrics count from. So, for instance, if you wanted to "reset" your metrics to kick off a new year or new campaign, you could do that using the Metrics Calculation setting.
Embed Organization: Here, you can access the embed codes for all widgets, including the direct donate widget.
Donor Experience Settings
Thank-you message: Mightycause takes care of sending receipts to your donors, but you can make sure your nonprofit formally thanks them for their support by setting up a custom thank-you message. You can even add a video to your message, which will be embedded in the receipt emailed to donors.
For more on our Donor Experience settings, check out this article.
Tweaking your Settings so that your fundraising website on Mightycause functions that way your nonprofit needs it to puts you in the driver's seat of your fundraising efforts. If you have any questions about your Settings or how to manage your site, email support@mightycause.com for assistance!