Once your team fundraiser has ended, you'll want to decide on the future of your fundraising page. If you have added in a fundraising goal to your team page, please note this is a display feature. Passing your goal will not automatically end your fundraiser.
If you would like to still accept donations on your page, you can simply leave the page as is.
However, if you would like for your page to stop accepting donations, you'll want to review these options.
Settings
You'll first want to head over to "Settings" on your fundraising page left-hand side dashboard.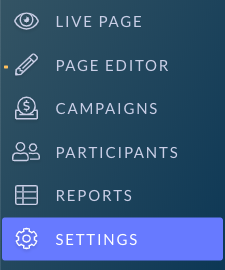 Disabling your Fundraising Page
You can disable your fundraising page by turning off donations and hiding your fundraiser. 
To hide your fundraiser from any search engine on the platform, turn off "Discoverability"

Once you've hidden your fundraiser on the platform, select "Turn off Donations" to disable donations on your page

Once you have disabled those two options, donors will no longer be able to find your page on Mightycause and will no longer be able to donate to your team. Please note that donations will also be disabled for individual fundraising pages participating in your team.
If at any point you want to enable donations again, simply head back to your Settings and turn on these features.
If you have any questions about ending your team page, please reach out to support@mightycause.com