What is Group Giving?
Group Giving is a tool on the Mightycause platform that can be used for employee giving, or any group of individuals that want to come together to support charitable causes. At this time, it is exclusively available for giving days and giving events. Service and volunteer organizations like Rotary Clubs can use the Group Giving tool as well.
Group Giving allows you to create a central page where members of the group can easily find and make donations to charitable organizations. And you can even set up matching grants to help drive donations!
How can I set up a group Giving page?
The initial step may vary depending on the Giving Event that you are supporting. If the giving event you are supporting offers the Group Giving tool, you'll find the opportunity to create a group giving page on the Business or Corporate Toolkit. Within the toolkit, you should see a link that will begin theGroup Giving creation process. If you are having trouble finding this link, please contact support@mightycause.com.
Once you select the link, a modal will pop up asking you to enter your group name, ie "Salesforce Employee Giving Group"
After you have entered your Group Name and selected "Continue," you will be sent to your Group Giving Page: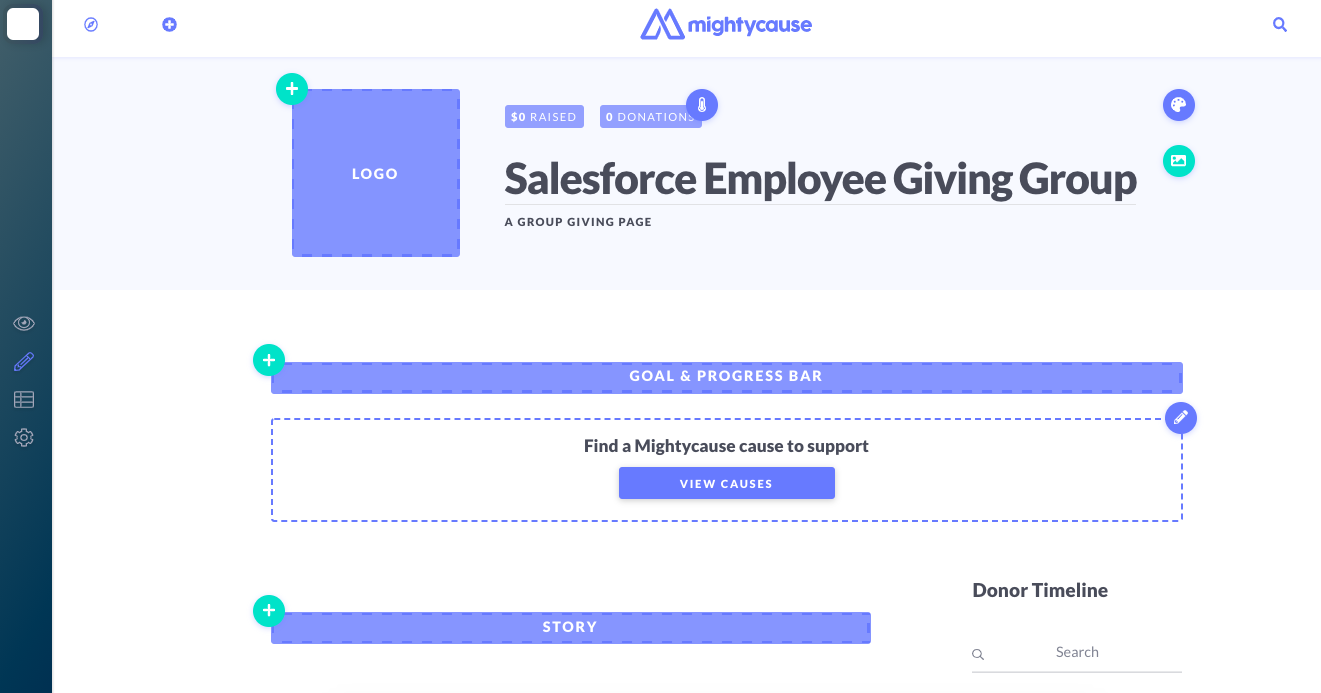 Customizing your Group Giving Page
The pencil icons on your page as well as the left-hand side dashboard will provide all of the editing tools for your page. The "Page Editor" section of your dashboard will open up an editing menu to guide you through the most important features of the page to complete: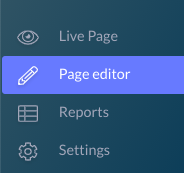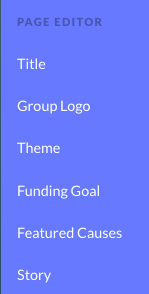 1. Title: Your title will be filled out on the page based on the name you entered when you created your Group Giving page, but clicking on the text of the title will allow you to edit or update your title as desired.

2. Group Logo: Click on the "group logo" in the dashboard, or the plus sign on the Logo box will open up the option for you to upload a logo for your Group Page. Your logo should be a 1:1 aspect ratio (square image), and you'll have the opportunity to upload from your computer, dropbox, facebook, and more.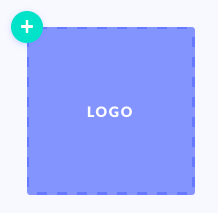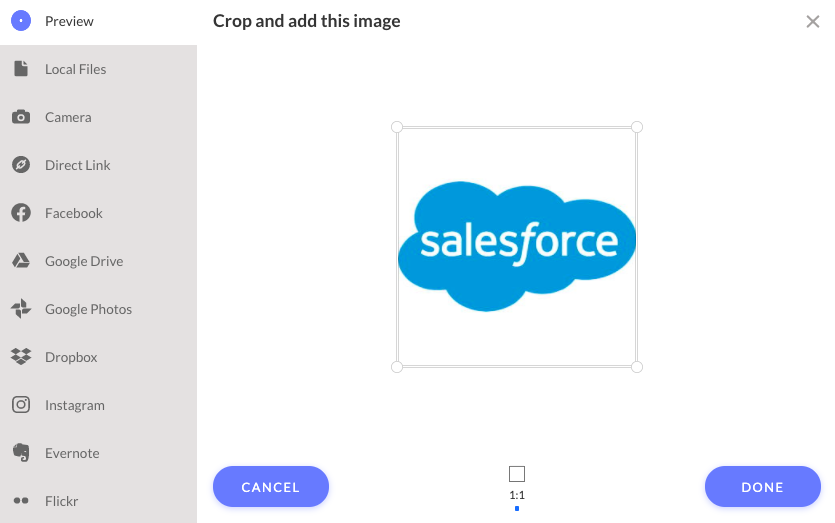 3. Theme: You have the opportunity to further customize the look and feel of your page with a theme color and a background image for the header. Both of these options can be opened via the icons on the far right side of the header. Clicking on the palette icon will open up a selection to allow you to enter the hex code of a color, or to select a color right from the color picker.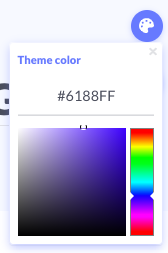 After choosing your theme color, clicking on the icon below will allow you to upload a background image, and if you don't have a background image you can select one from the gallery available. The aspect ratio is 355:88. Images should be at least 1920 x 1080 pixels (which is also a common size for desktop wallpaper). This will also ensure that your team page is optimized for larger screens.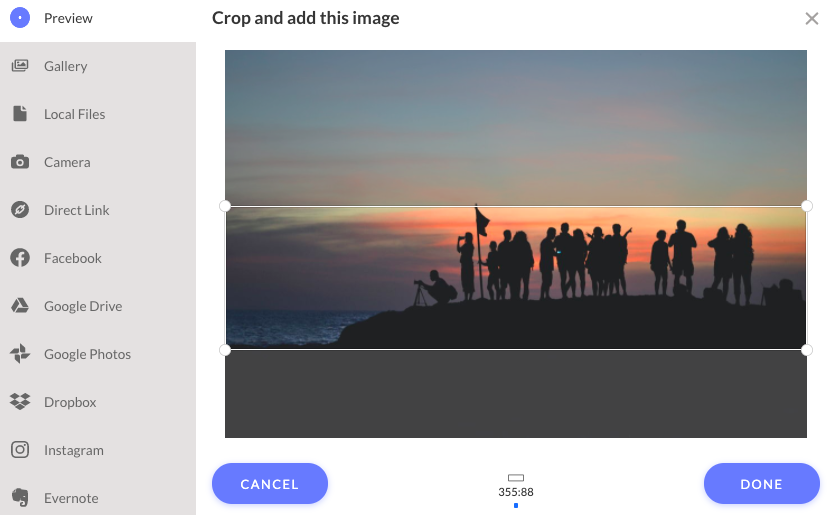 4. Funding Goal: As an optional feature, you can choose to add a goal and a progress bar to your page. Clicking on the plus icon (+) in this section will add the progress bar to your page:

Once selected, you will see the ability to add a goal amount:

5. Featured Causes: Clicking on the "Featured Causes" pencil icon will open up another optional feature of your group giving page.

By default, donors giving on this page will be able to search and give to any and all of the causes that are participating in the Giving Day. The option "Show a button to browse causes for the whole event" will automatically be selected:

However, if your organization has a selective list of causes that you'd like to limit your employees to give to, you have the option to browse and add specific causes. To display a list of featured causes, select "Show a list of featured causes for your group to donate to." If you choose to check both boxes, your page will feature the selected causes, but still offer donors the chance to search the entire list of participating causes to donate to.

Please note your choice here will affect the metrics on your page.
For example, if you only select and add 5 causes to feature, only donations to those 5 causes will be shown via your page metrics and your donations reports (and count against any matching grant you add to your page). If you do not opt to limit the featured causes, then a donation made to any causes in the Giving Day will count for your metrics, and any matching grants that are available.
If you have chosen the option to select and add featured causes, click the "Browse and add causes" button to add a featured nonprofit. A pop-up will open up asking you to search and add an organization from our database: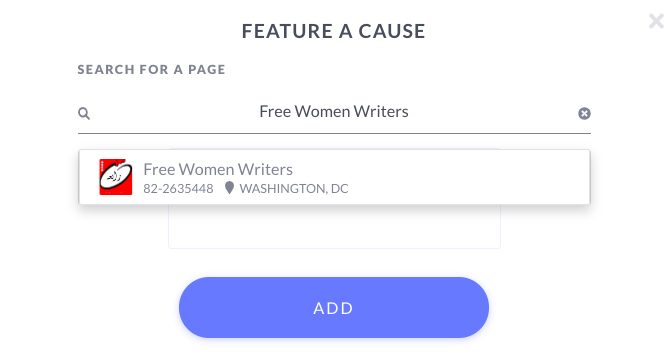 Once you have entered your selected nonprofits, they will be added to your Group Giving page: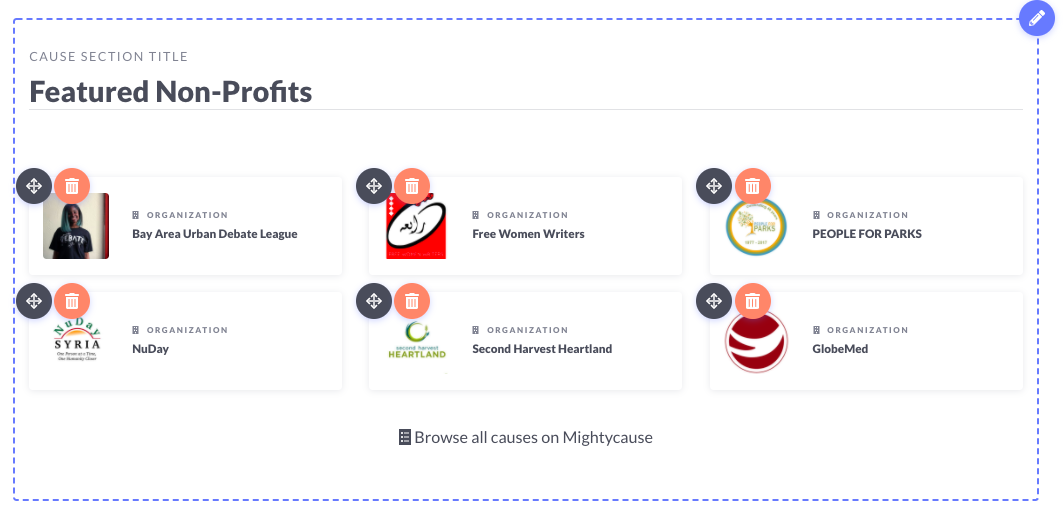 6. Story: In the story section, you will have an in-line text editor that allows you to share information about why your group is giving as a part of the Giving Day, or any other information you'd like to share.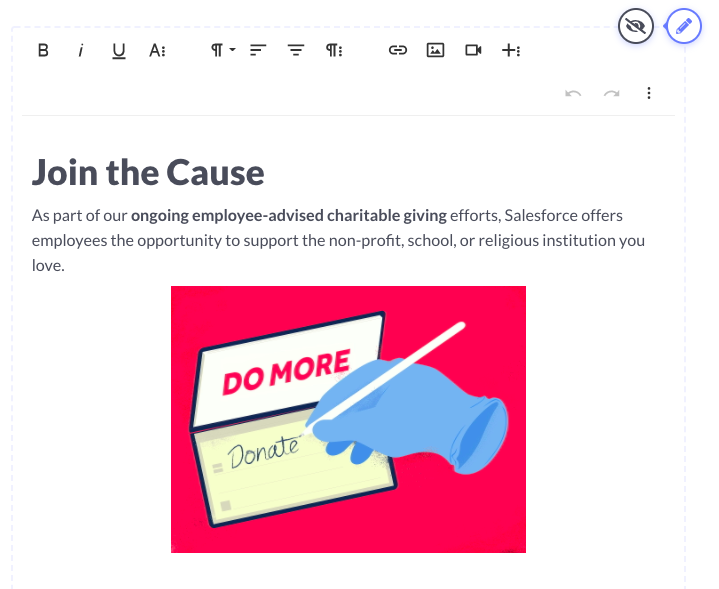 7. Page Metrics: After your page is built, you will have the opportunity to customize what metrics you would like displayed at the top of your page. By default, your page will show the number of donations made through the page, and the total dollars raised. Clicking on the thermometer icon in the metrics will allow you to select up to 4 total metrics to display, including, dollars raised, number of donations, number of unique donors and number of causes supported via the page.


Managing your Group Giving Page
After you've completed editing your page, you can navigate the remaining items on the dashboard to access donation reports, add a matching grant or update the page settings.
Donations Report
Clicking on the "Reports" icon of the dashboard will open up your Donation Report where you can access and download donor data in real-time for all donations that are made through your group giving page.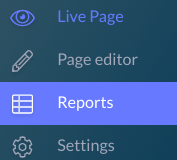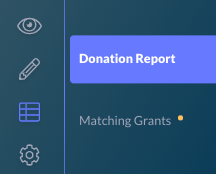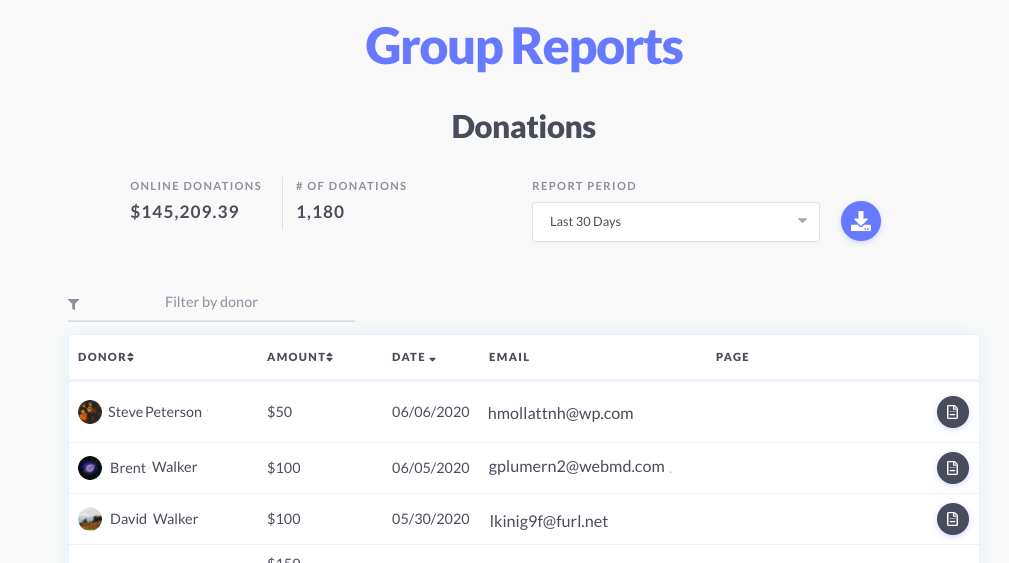 You can export any of the donations report views as a Spreadsheet by clicking the download icon at the top of the report:

Matching Grants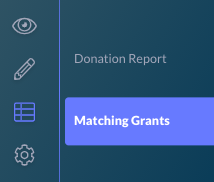 Reports section of your dashboard will also include an area called Matching Grants.

The "Match Manager" is a display and reporting tool for any matching grants your organization receives.
Say for example, your company is willing to match employee donations up to $5,000 during the Giving Day, this feature will allow you to add a matching grant to your group giving page to display and track this incentive. Learn more about setting up a matching grant here.
Settings
The final item within your dashboard will allow you to edit and customize certain page settings, from customizing the end of the page url or the social sharing settings, to adding an additional member of your team to serve as an administrator of the page.
Social Sharing
Customize the image and text social media networks use when someone shares your page.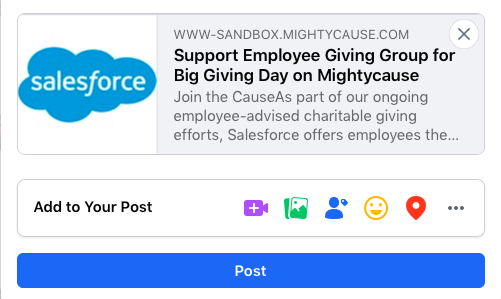 Custom URL
When you create your page, your page will automatically be given a URL. It's a boring series of letters and numbers. But you can jazz things up and make your page more memorable, customized, and shareable by giving it a Custom URL. Keep it short and obviously make sure it's relevant to your page.
Progress Calculation
You might have had some eager fundraisers that started collecting funds a bit too early. In this case, you might want to start tracking donations made to fundraisers before your team started. To do this, just visit "Settings" and scroll to the section titled "Page Metrics" — then just change the start date to whatever you'd like!
This is also a great option for group giving pages you plan to use year over year. You can change your metrics to only include this year's funds raised. This is an easy way to ensure you're not "reinventing the wheel" each year, and fundraisers will only need to update their information, ratherthan creating a whole new page!

Discoverability
Turning off Discoverability will hide your group giving page so only supporters with a direct link can access your page, and it won't show up in our Search.
Visitor Redirect
If your page is no longer relevant or active and you'd like to point visitors to a newer page instead, you can use this feature to display a redirect suggestion to all visitors. To do so, simply add in the new url within the text-box.
Group Admins
If there are additional individuals you would like to add as administrators to your page, you can simply add those individuals by selecting the plus icon (+) below the "Group Admins" area.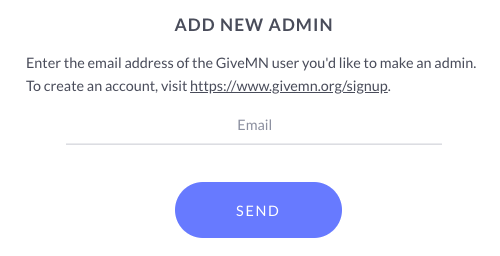 If you have any further questions about your Group Giving page, please contact support@mightycause.com