Donating and fundraising on Mightycause is safe, secure, and simple.
Our largest segment of users is certified charities, or nonprofits. Organizations can use Mightycause to raise funds for their organization, and donors will automatically receive a tax-deductible receipt.
Our database is automatically imported and updated regularly from the IRS' database of approved 501(c)(3) nonprofits with public charity status in the United States. Our database is also comprised of some educational institutions, religious organizations, and fiscally sponsored groups through one of the prior approved organizations on Mightycause.
Claiming Your Organization Page
If you are looking to utilize Mightycause for your organization, you'll want to be set up as an administrator for your organization profile page on Mightycause. An administrator has access to manage and edit your organization profile page as well as review and track donations and disbursements.
Most organizations that exist in the IRS database automatically have an organization profile page already created on Mightycause. To see if your organization's page exists on our platform, try searching in the Search bar at the top of the website for your organization's EIN number.
Once you find your organization, you can request access to it by selecting "Manage This Organization"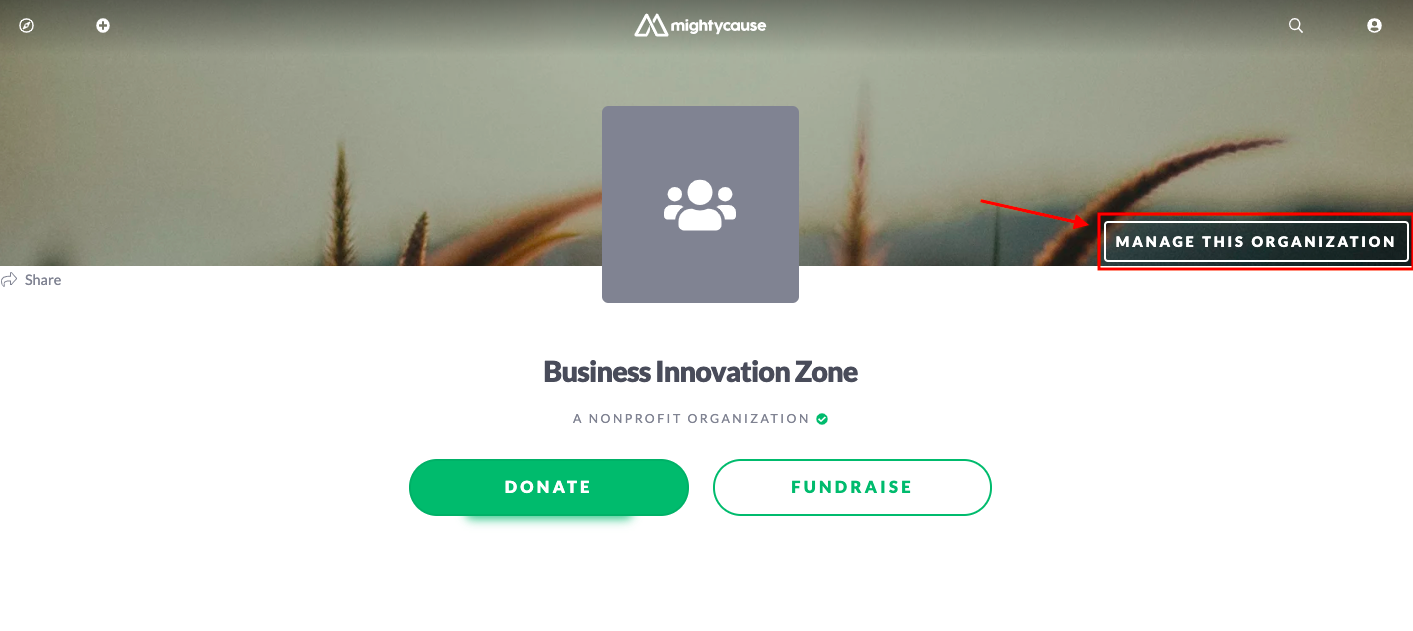 Please note, you will be prompted to create a user account if you haven't already created one.
Once you request to be set up as an administrator on the platform, our team will review your request.
It can take 24–48 hours for our team to process your claim. We take security seriously, and want to ensure we properly verify all users claiming access to your organization's information. For this reason, anyone who wants to be added as an administrator to your organization page must follow these steps. You can have up to 10 organization administrators on your organization's page.
Accessing Your Organization Page With Admin Access
Once you receive a confirmation email from Mightycause's support team, you can now access your organization's page! Here's how:
Login to mightycause.com/login
Click your name in the top right-hand corner of the page
Select your organization from the dropdown menu
You are now accessing your page as an organization admin!
You'll know you're on your organization profile page as an admin if you see the dashboard on the left-hand side of your page.
How do I add an organization that doesn't exist yet on Mightycause?
Don't worry if your organization is not yet listed on Mightycause. Almost every nonprofit organization is sent an IRS Letter of Determination verifying that your organization is a 501(c)(3) public charity. To create your page, complete the steps below:
Create a user account login at www.mightycause.com/login
Once you are logged in, fill out the application for a new organization: https://www.mightycause.com/a/new_org_form
The Mightycause staff will review your application and get back to you with your new organization page or a request for additional documentation.
International Organizations, or Waiting on Your 501(c)(3) Status?
In order to be listed on, and receive donations through Mightycause, your organization must be registered in the U.S. as a 501(c)(3) public charity. If you're still waiting to receive your 501(c)3 status (hint: you haven't yet received your letter of determination from the IRS), you can still use Mightycause! Here's how:
Set up a fiscal sponsorship
If your organization is not located in the United States or is waiting to receive 501(c)(3) status, you might consider a fiscal sponsorship. Organizations that are overseas or awaiting 501(c)(3) status can reach out to an organization listed in the fiscal sponsorship directory to have them act as a fiscal agent to receive tax deductible contributions.
Set up a personal fundraiser
You can also use our personal (non-tax deductible) fundraising platform for your fundraising needs. Personal fundraising on Mightycause means the creator can raise money for anything, and donations go straight to their bank account. Personal fundraisers can be used to raise money for things like: medical expenses, organizing a neighborhood cleanup, an adoption and more.
Many of the same tools are available as with our nonprofit platform. The transaction rate for personal cause fundraisers is 2.9% + $0.30 per donation for US-based organizers. You can create your personal fundraiser by clicking here: https://www.mightycause.com/start-fundraiser
Why is my organization listed as 'Unverified' on Mightycause?
Mightycause's database is regularly updated from the IRS database of 501(c)(3) public charities. If your organization's status has changed, your pages may become unverified until the IRS re-lists your organization as approved or until you provide us recent documentation from the IRS confirming you are still an approved 501(c)(3) public charity.
To confirm your Organization's nonprofit status or request documentation, call the IRS (toll-free) at 1–877–829–5500.