In this support article, we'll discuss how to make your organization profile page as strong as it can possibly be by going through some key tips and best practices.
Getting Started
Your organization page is the hub of your nonprofit's presence on Mightycause. This is connected to your nonprofit's EIN and can be used for general year-round fundraising. Your organization page should have basic information about your nonprofit such as your mission statement, contact information, and a gallery where you can upload photos or videos.
The "Profile" section of your left-hand side dashboard will have all of the administrative tools and features you need to customize your page.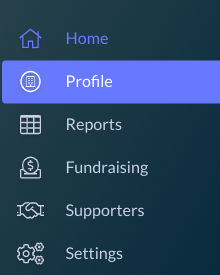 Your Profile section is divided up into three key subsections: Live Page, Page Editor, and Page Settings: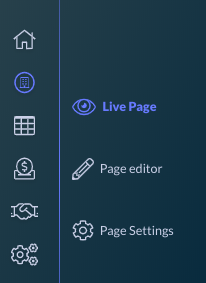 Live Page
Live Page allows you to view your organization profile page as how donors would. When you are editing your profile page, you'll want to make sure that you're checking back at this section to ensure that the changes you are making align with how donors would be seeing it.
Page Editor
Once you're ready to start editing your profile, select "Page Editor." A submenu will open up with all of your key editing options.
Please note that none of these sections are required for you to fill out. If there is a section that would like to skip, no worries! Your page will display to donors only the information you input. Any section you do not fill out will not display on your Live Page.

As well on "Page Editor" view, you should notice pencil icons across your profile page. These pencil icons provide you the ability to edit either directly on the page, or using the submenu above.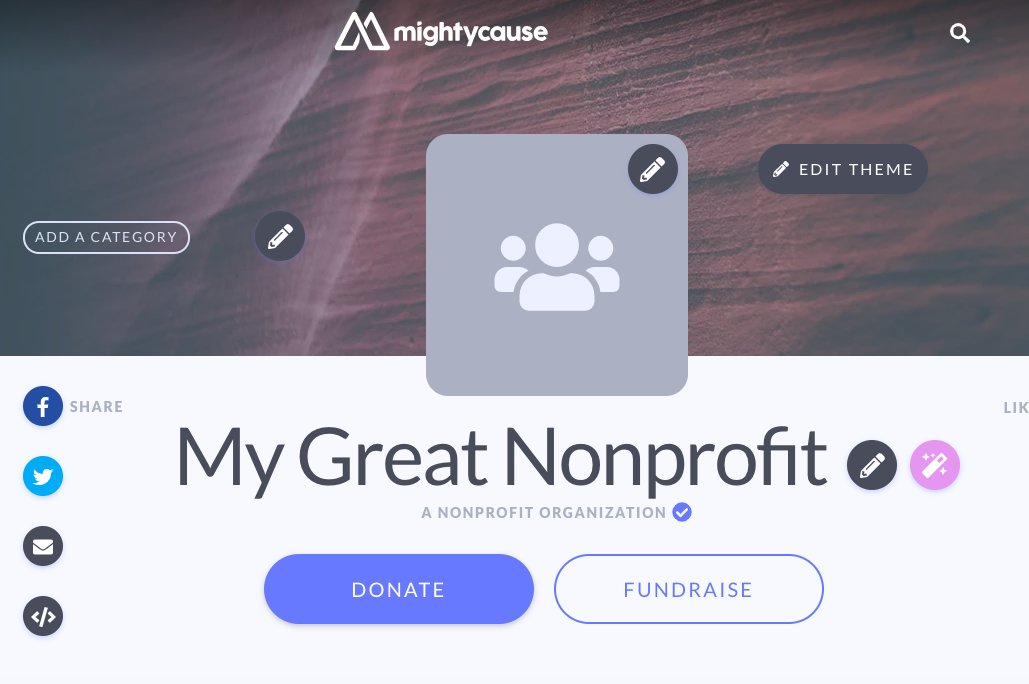 Logo
You'll want to make sure you choose your logo wisely and follow our guidelines so your page will look its best.
Logo best practices
Logo shape: A square or circle image works best in this space.
Logo size: The container for your logo has a 1:1 aspect ratio (square). If you upload a logo that is too large, it may be distorted in the image container. Smaller images will be centered within the container.
File type: It's ideal to upload a .PNG for your logo. Other image files will work, but a .PNG with a transparent background is best.
Transparent background: A logo with a transparent background will look best against your background image on your profile page. What we mean by "transparent" is that there is no white filling in the parts around your logo — it's invisible. You'll want to make sure your logo doesn't clash with your background image (which we'll discuss more later on).
Display Name
The name displayed on your nonprofit's page is that which is currently registered with the IRS. If you'd like to change the name listed on your organization page, you can simply click the pencil next to your organization's name. We recommend making your organization name similar to your legally recognized name so that donors can search for your organization easily on Mightycause.

Theme
Background Image
This is where you can get creative and showcase your nonprofit's brand!
Your background image is a large image file that will display behind your logo. Your background image will look best if it's mostly text-free (since there will be text displaying in front of it) and a strong image that's representative of your nonprofit. Landscape-oriented images will work best.
Click the "Edit Theme" button and then select "Background Image" to upload your background image.
You'll have the same upload options as you did for your logo, with the addition of generic gallery images to choose from. You can pick from one of these, or upload your own by choosing one of the other options on the left sidebar.
You will need to crop your background image to fit inside the image container. When you click "Done," your background image will be added to your profile page and you can see how it looks with all of the other elements on your page.
You can add a color overlay to your background image by selecting "Filter Color"

If you have a specific color you'd like to use and know the hex code, you can enter that to choose that as your filter color.
Inside the box on the left, you can get more specific about the color you want — just click in the box to the color that appeals to you the most.
Use the "Filter Strength" slider to ramp up the intensity of the overlay (move it to the right if you want more color, to the left if you want less).
Theme Color

Now, here's where things get really cool. Mightycause lets you choose a color theme for your page, which will allow you to put your own personal stamp on your profile page. Select "Theme Color" to add in a color. The color you choose will apply to some of the text on your profile page, such as your donate button, amount raised, and your organizer info.
Categories
Here you can add categories to your nonprofit; you'll need to choose at least one. Selecting a category for your nonprofit allows donors the ability to easily find your organization in our search system.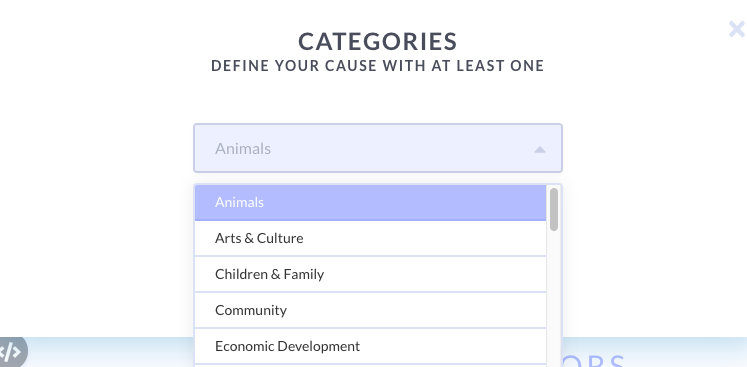 If you're not sure what category to choose, just choose one that is the closest match to the mission of your nonprofit.
Description
About

The About section of your page is your chance to explain what your nonprofit is all about. Simply click into the section and start writing! You can also add media to your story to jazz things up. Utilize the in-line text editor to add links, upload images, link to videos on YouTube and Vimeo, and add bulleted or numbered lists.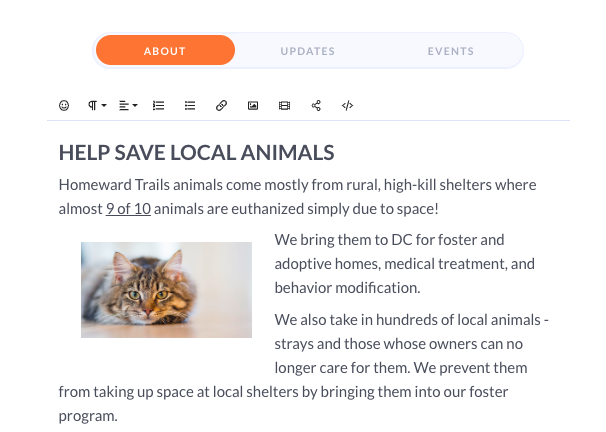 Please note that the max character length for this section is 5,000. You will be able to find a character count on the bottom right-hand side corner of this section.

Updates

The Updates tab helps you keep your supporters engaged. Add in key updates about your organization so that when donors click on this tab, they can read more about what's going on in your organization.
You won't need to do anything with this section if don't have any updates, but it's important to know where this is on your toolbar.
Custom Tabs
Do you have extra information you want to share with people about your nonprofit that won't fit in your story, or just doesn't make sense as an update? You can create a custom tab to add that information to your nonprofit, while keeping everything organized and easy to find. You can add anything you'd like to your custom tab, really: Information about your upcoming events, frequently asked questions, information about your staff, acknowledgements, resources and links to more information. The list goes on! You can create up to 3 custom tabs that you can label however you'd like and fill with whatever content makes your profile page more awesome!
Featured Fundraising Efforts
This section provides you the opportunity to curate the campaigns/fundraising efforts on your profile page. This is a great opportunity to publicize and highlight a new event or campaign for your organization. You can have up to six campaigns can be highlighted at a time. To add a new fundraiser to this section, simply click into an empty box and search for the campaign you would like to highlight.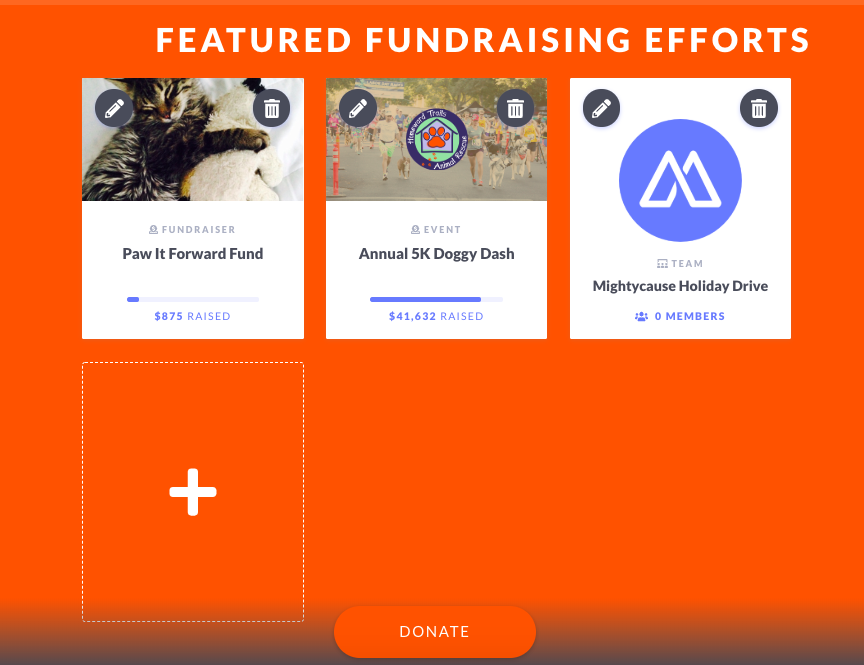 Please note that right below this section is "More Support for this Organization," which will populate the newest fundraisers created for your organization.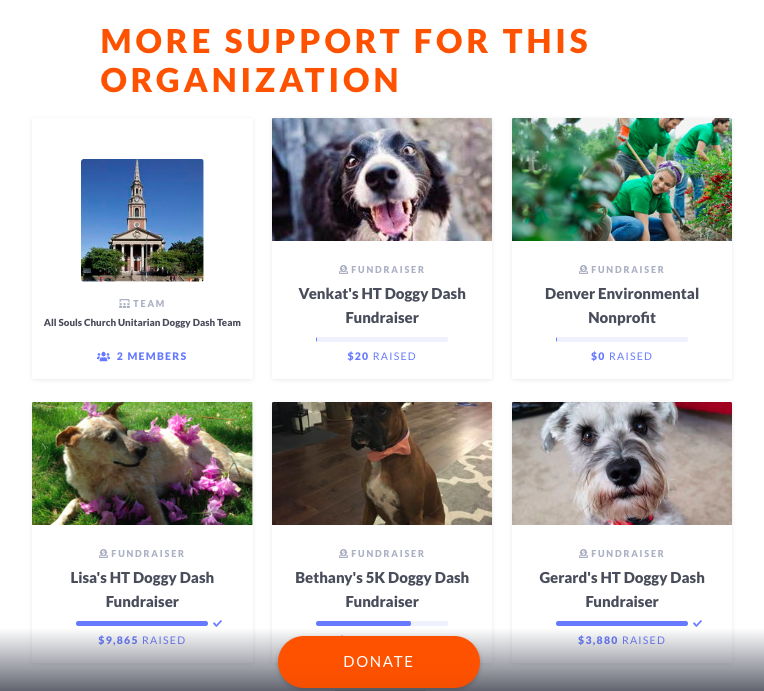 Media Gallery
Here's where you will be able to add any additional images you have of your organization. It's a great way to visually show donors what your organization does and where funds are going.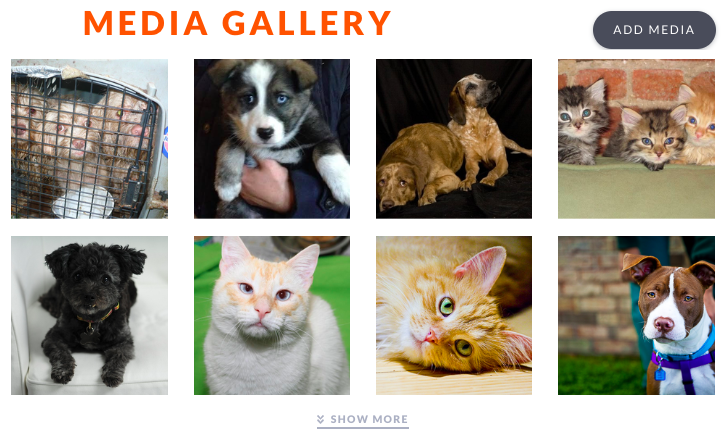 Instagram Gallery
Connect your organizations Instagram account to your profile page to share with donors any additional images you may have. This is not required but it's a great way to publicize your Instagram account to get more likes and followers.
Facebook Gallery
Connect your organizations Facebook account to your profile page to share with donors any additional images you may have.This is not required but it's a great way to publicize your Facebook page to get more likes and followers.
Organization Info
You'll want to add in key contact information for your organization so that if donors have any specific questions or want to get more involved, they will have the resources to do so. Your name, EIN, and address field will be pre-populated based on information in the IRS database. Otherwise, you can choose what type of information you want publicly available on your organization profile page.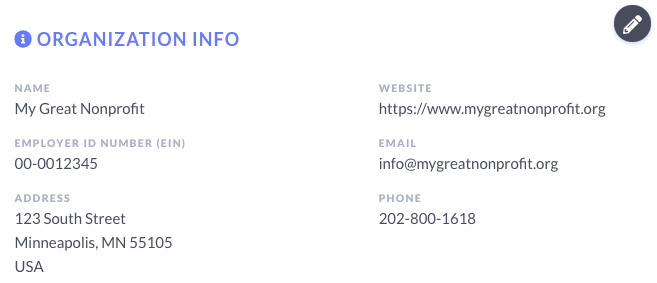 Page Settings
Page Settings provides you all the tools you need to add in key metrics and donor photos to your organization profile page.
Metrics
The Metrics tool allows you to control the fundraising metrics your Mightycause page displays.
You can decide whether you want the amount of money your nonprofit has raised to display, and if you want to include offline donations in that total. You can also choose whether or not you'd like to display the number of donors you've had on your Mightycause page.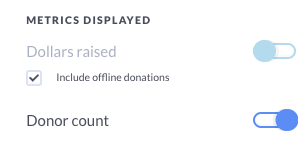 Most importantly, you can add a goal and progress bar on your organization profile page:

Within Page Settings, select the "Goal & progress bar" option and add in a goal amount.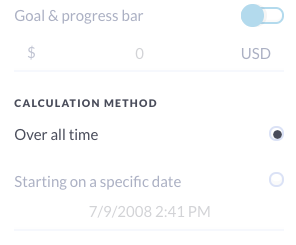 You'll also want to decide your Calculation Method. This tool allows you to choose the date your Displayed Metrics count from. So, for instance, if you wanted to calculate your fundraising total by the amount of donations you have received from the start of the year, you'd want add "January 1st, [Current Year]" as your start date.
Donors Panel Visibility
Your Donors Panel is the collage of your donors' user profile photos that displays next to your story. Please note, donors who have not added a photo to their user account will not be populated here.
Embed Organization
Here, you can access the embed codes for all widgets, including the direct donate widget.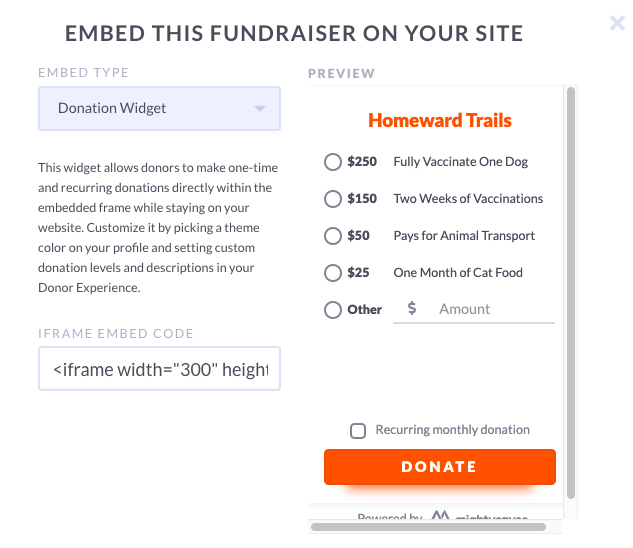 Have Questions?
If you have any questions about the features on your Mightycause organization profile page or would like help making it as amazing at it can possibly be, contact support@mightycause.com.