Integrations can be found on the left hand side of your administrative dashboard under "Integrations."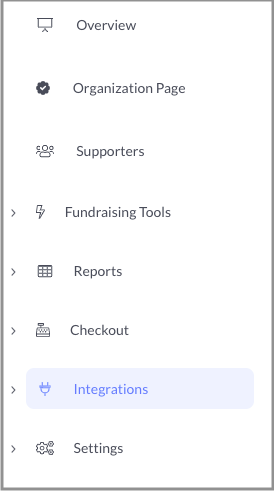 What Is Zapier?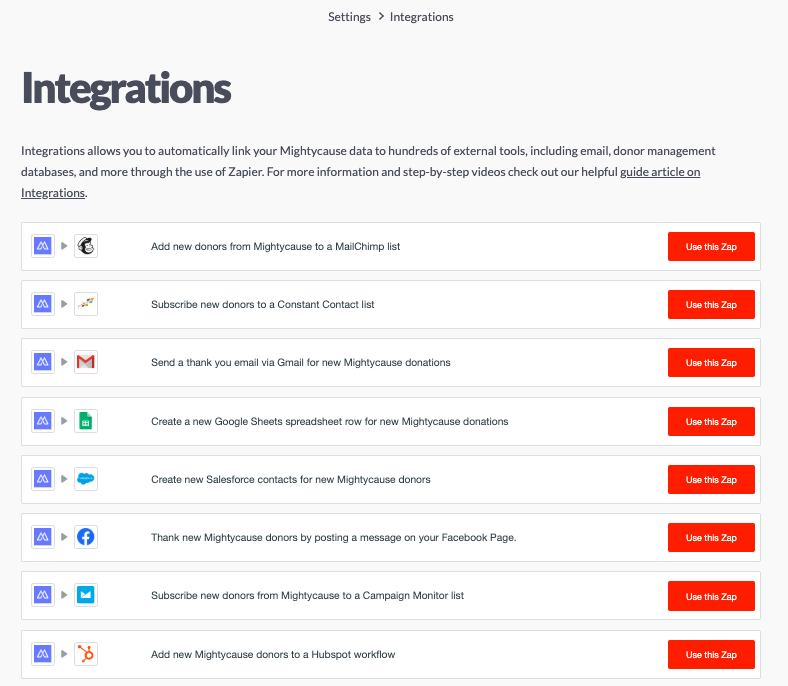 Zapier is a tool that allows you to connect apps you use every day to automate tasks and save time. It enables you to connect Mightycause with any of the hundreds of integrated apps to make your own automations. It's quick and easy to set up – you don't need to be a developer, anyone can make a Zap!
What Is A Zap?
A Zap is an automated workflow you create to accomplish a task. It consists of a Trigger (what event starts the workflow) and an Action (what task is to be completed by the workflow).
Here's an example of a Zap:
When I receive a new donation on Mightycause, send the donor a thank you email.
The first part (receiving a new donation) is the trigger. The second part (sending an email) is the action.
You can create Zaps like these using over 750 web apps without knowing anything about code.
How to Get Started with Mightycause on Zapier
Before you begin using Zapier and start sending your data to SalesForce, MailChimp, and hundreds of other applications, the first thing you'll need to do to get started is connect your Mightycause Account with Zapier. Click to add a Mightycause account in your Zap.
Next, you'll be asked to login to your Mightycause Account and to authorize Mightycause to work with Zapier.
Once you log in, your Mightycause account is now connected to Zapier and you will be returned to select your account.
Popular Things To Do With Zapier
There is an endless list of possible actions you can achieve through Mightycause's integration with Zapier. But to help you get started, here is a list of the top apps we use:
1. Mightycause > Google Sheets

a. Create a new row in Google Sheets for every donation you receive

2. Mightycause > Mailchimp

a. Add new donors to your MailChimp subscriber list.

3. Mightycause > Salesforce

a. Update your Salesforce leads with donation information

4. Mightycause > Gmail

a. Send donors a personalized thank you email from your Gmail account.

5. Mightycause > Campaign Monitor

a. Add donors to your Campaign Monitor mailing list

6. Mightycause > Slack

a. Receive a notification each time someone interacts with your fundraiser

7. Mightycause > Constant Contact

a. Add new donors to a Constant Contact list

8. Mightycause > Facebook Pages

a. Thank a donor publicly by posting a message on Facebook.
Check out their full library of apps and integrations!
Need Help?
If you need assistance navigating Integrations or have questions about using any of the tools it contains, contact our support team at support@mightycause.com!