In this Support article, we'll walk through the Checkout Flow tool and the options nonprofit administrators can use to customize their donation flow on Mightycause.
What Does the Checkout Flow Do?
The Checkout Flow tool allows your nonprofit to craft the checkout process for donors. Nonprofits on Mightycause can now customize:
How many steps are included in the donation process
What information to collect during donations
The content of the Thank You page that donors are directed to after completing a donation
A custom Thank You message to be embedded on tax receipt sent to donors by the Mightycause Charitable Foundation
Whether to include any additional questions or custom questions for donors to answer
Accessing Your Checkout Flow
The Checkout Flow tool is housed under the "Fundraising" section of your dashboard. To access Checkout Flow, select "Fundraising" > "Checkout Flow."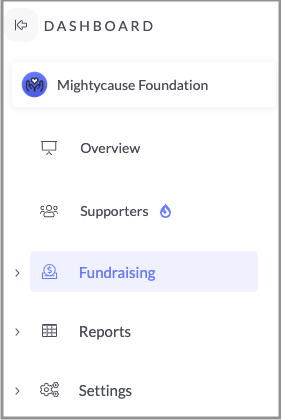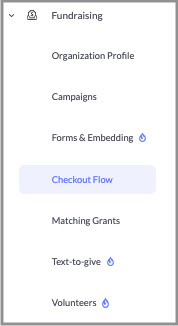 Checkout Flow Tabs
The Checkout Flow is divided between three different tabs.
You can toggle between options by clicking on the tab you'd like to use.

Checkout Steps
The first tab in Donor Experience is Checkout Steps. This is where your nonprofit can set up the basic structure of your donation process.
Checkout Steps Counter
At the top of the Checkout Steps page, you'll be able to see how many steps are currently in your checkout process. We also include the average checkout to help you gauge whether your checkout process is shorter or longer than most.

Please note, donors are more likely to exit a long checkout process. As a best practice, it's important to keep your checkout process short enough that it isn't cumbersome to donors but has all of the most essential steps included.
You can also preview the checkout process as it appears to donors, by clicking the View Checkout option. You'll be able to go through the same process as your donors, so when you add new steps to your checkout, you can test it out without making a real donation.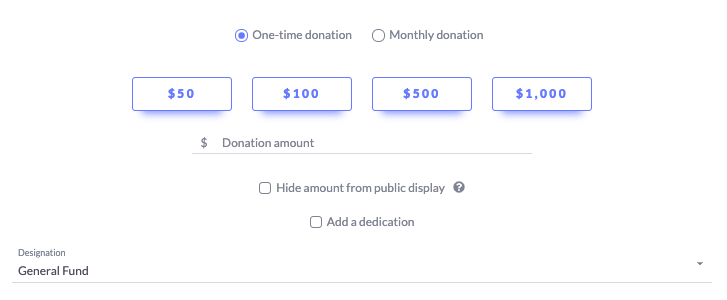 Suggested Donations
This tool allows you to customize the suggested amounts displayed when a user clicks on the Donate button, and also allows you to add descriptions of those amounts for your donors to see. Setting custom donation suggestions makes it easier for donors to choose how much to donate by pre-loading options for them, and helps push donors to these levels. (For instance, donors giving at a lower level may bump their donation up to $25 from $10, simply because the option was presented to them.)
All Mightycause pages have Suggested Donations turned off at first; they can be enabled by going to Donor Experience, click the checkbox, and entering the information. You can use Suggested Donations without amount descriptions by clicking "Use custom donation suggestions" and leaving the "Add amount descriptions" box unchecked. If you wish to use both donation suggestions and amount descriptions (which is recommended), click both boxes, and enter the information. You must click "Save" to insert these customized fields into your checkout process.
You are limited to four custom donation suggestions, to avoid offering too many options (which negates the purpose of offering suggested amounts) and to keep the look of the window clean, user-friendly, and uncluttered. You also have a 60 character limit for the amount descriptions.
Users will always still have the option of entering custom amounts if they do not wish to use a suggested donation amount. (The minimum donation on Mightycause is $5; there is no upper limit.)
Dedications and Designations
Nonprofits have the option of allowing donors to dedicate their donation to another person, as well as designating their donation to a purpose, program, or fund of their choosing. These are optional for nonprofits. (You do not have to allow dedications or designations.) You can turn on the options you'd like to offer using the check boxes. You can turn on both, one individually, or leave both unchecked if you do not wish to allow dedications and designations.
Donors will choose whether to leave a dedication or designation at the beginning of the checkout process.

When a donor leaves a dedication or designation, a column will be added to your Donation Report indicating their choice to ensure you can properly account for their wishes.
Dedications
Dedications are made in honor or in memory of another person. You can enable dedications in the donation process by checking the box that says, "Show the option to make a dedication with their donation."
When a nonprofit has turned on dedications, the donor will be able to choose whether they'd like to dedicate their donation in the beginning of the checkout process.

The dropdown menu for "Dedicated To" looks like this: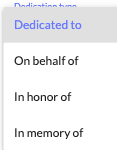 Designations
Nonprofits can also allow donors to designate their donation to a particular purpose, program or fund. Your nonprofit enters in the possible designations, so donors can only choose from the designations you have entered.
You can add the choices for donors who wish to designate their donation in this field.
You're limited to 25 characters per designation, and you are limited to five different designation options overall. When your donor opts to designate their donation, they will be able to choose their designation from a dropdown menu:


Donors can simply skip this area if they do not wish to leave a dedication or designation.
Data Collection
Nonprofits on Mightycause have the ability to collect additional information from donors beyond their name and email address. You can opt into collecting their mailing address, company, age, gender and phone number to help your nonprofit collect demographic information about your donors as well as contact information that will help you follow up more effectively.
You can choose from five different Data Collection options. You opt into adding a Data Collection field to your checkout process by toggling the button on.
There is no limit to the number of options you can turn on at one time, however, we recommend limiting your Data Collection fields to information you can use at your nonprofit in a meaningful way.
Please note, if you opt into collecting Phone Number, Company, Age, or Gender those will be optional fields during the checkout flow:

Advanced Questions (Advanced feature)

Advanced subscribers have access to the Advanced Questions tab in the Checkout Flow tool. This allows your nonprofit to collect even more information from your donors. Advanced subscribers will have the ability to add two additional questions to their checkout flow.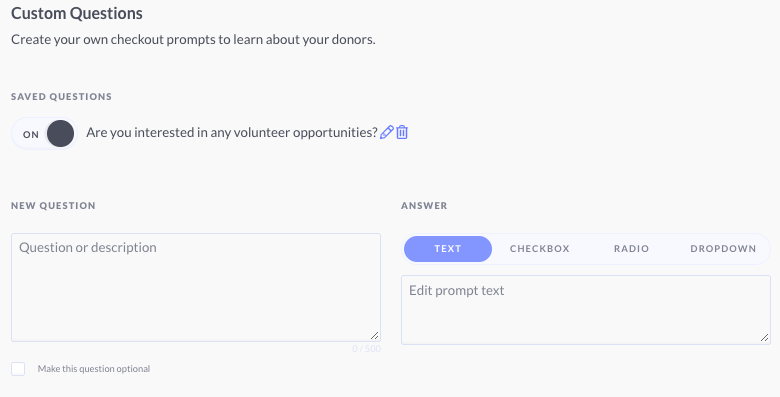 Learn more about the Advanced Questions tool here!
Post-Checkout

The Post-Checkout tab allows nonprofits to customize what happens after a donor completes the checkout process.
Thank You Page
When a donation is completed, donors will be sent to a Thank You Page that contains a customize message from your nonprofit. You can build your custom message in a simple text editor that allows you to add links, videos, images and more.
(Please note that all video must be uploaded to YouTube or Vimeo.)
You can also make use of a CTA button that allows you to link to any page you choose, whether it's your Mightycause page, your website's homepage, your blog, your Facebook page, etc.
You can click the Preview button to view your customized Thank You Page.
Email and Receipt Customization
One of the benefits of using the Mightycause platform is that we handle distributing tax receipts to your donors, allowing you to focus on what's most important. You can insert a customized message into the receipt your donors receive on in the Email and Receipt Customization section of the Post-Checkout tab.
Simply add your message and save! You can also preview the receipt your donors are sent by clicking the Preview button. (If you have a thank you video, we recommend adding it to your Thank You page, where it is more likely to be seen by your donors!)
Need Help?
If you need assistance navigating Donor Experience or have questions about using any of the tools it contains, contact our support team at support@mightycause.com!