In this support article we will be reviewing all of the settings that will help you customize your nonprofit fundraising website to suit your needs.
Organization Page Settings
Your nonprofit's Settings help you control aspects of your page and your presence on Mightycause: You can customize your url, manage other users who have admin access to your page on Mightycause, and update how you receive your disbursements.
To access your Organization Settings, click Settings on your dashboard: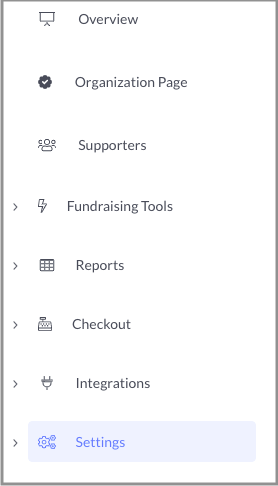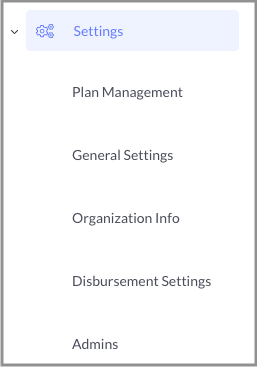 From this area of the dashboard, you can easily access:
Plan Management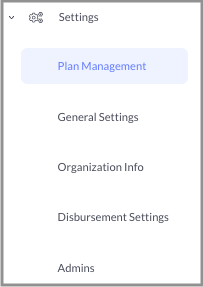 If you are on the Starter Plan and would like to upgrade to our Essentials or Advanced Plan or sign up for a free trial, select "Plan Management" within your Settings section.
If you are an Advanced Plan and would like to view your payment details or update the credit card on file, all of that information will also be available within this area.
General Settings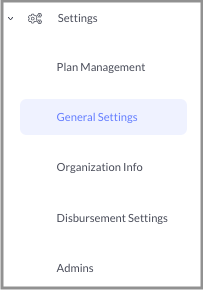 URL Customization
This allows you to change the URL of your Mightycause page. By default, it will be your organization's legal name, but you can change it to a DBA or shorten it with this tool.
Please note, a unique url can only be used or taken once on our platform. If a specific url is not available, that means it has already been taken and you cannot use that url. However, feel free to include dashes or underscores in order to utilize the url you want (ex. -Mightycause-Foundation)
Discoverability
When Discoverability is "on," Mightycause users can easily find your organization using our search feature. Turning off Discoverability will hide your organization so only supporters with a direct link can access.
Alternate Search Names
Alternate Search Names provides you the ability to list alternative names of your organization so that donors can easily find your organization within the search. This could be an acronym or secondary name. For example -
Organization Name: Mightycause Charitable Foundation
Alternate Search Name: MCF
Social Sharing
Social Sharing allows you to update the image and text social media networks use when someone shares your page.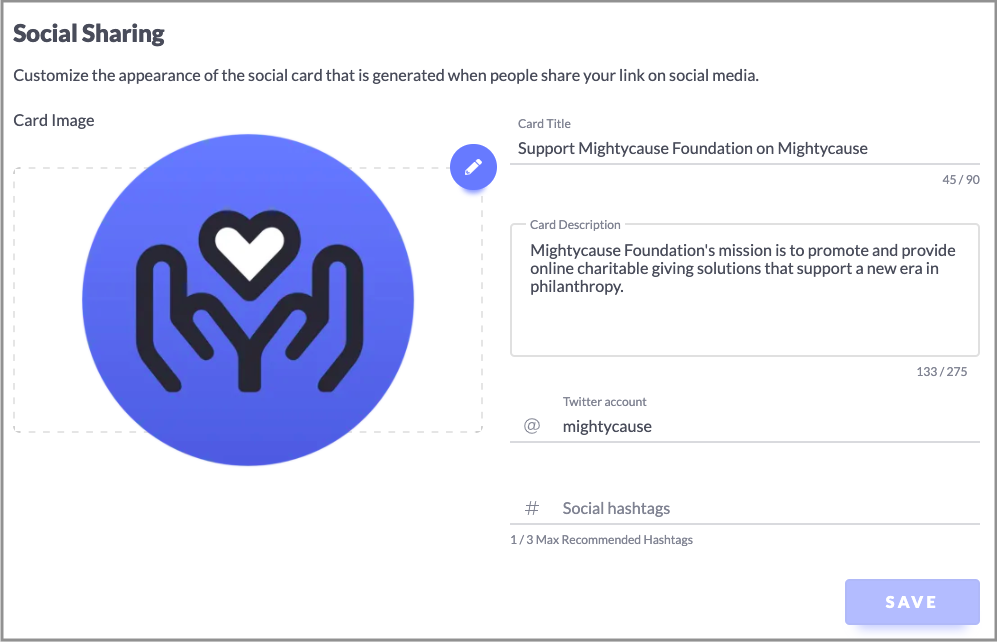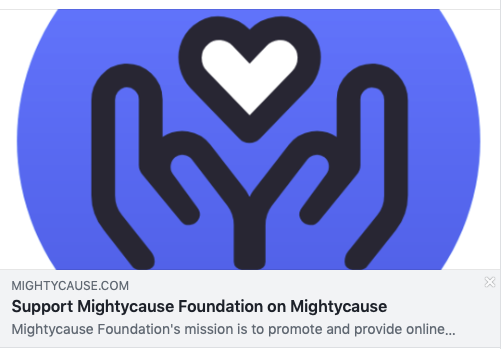 The recommended photo size for social sharing is 1200px x 627px.
Fee Payment Model
If you would like to opt-into our Pricing Guarantee Model or disable the ability to donors to cover the transaction fee during the check-out flow, select "Manage Fee Options."
You can find more information our pricing structure here.
Organization Info
Organization Profile Information
You can update the organization information displayed on your organization profile under the 'Organization Profile Information' section, and then click 'Save' at the bottom of the page.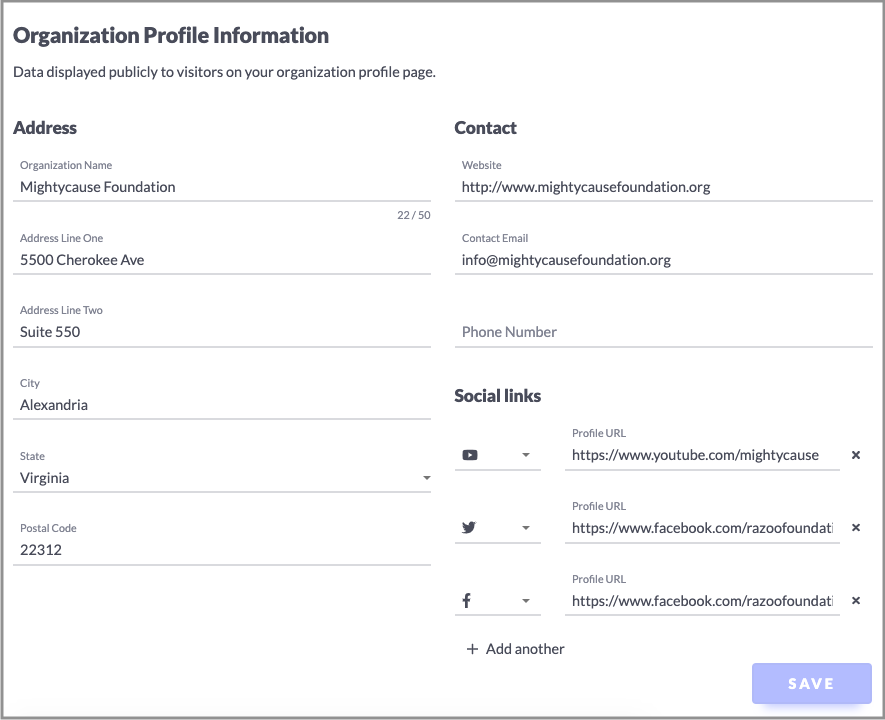 Legal Name
The legal name will be shown on the donation receipt for your organization. The legal name can differ from your DBA/display name.
Underneath "Enter a new name" enter the updated legal name. You will need to provide a IRS or State Attorney General documentation approving the request for a name change or DBA. The documentation should include both the old and new legal names of the entity.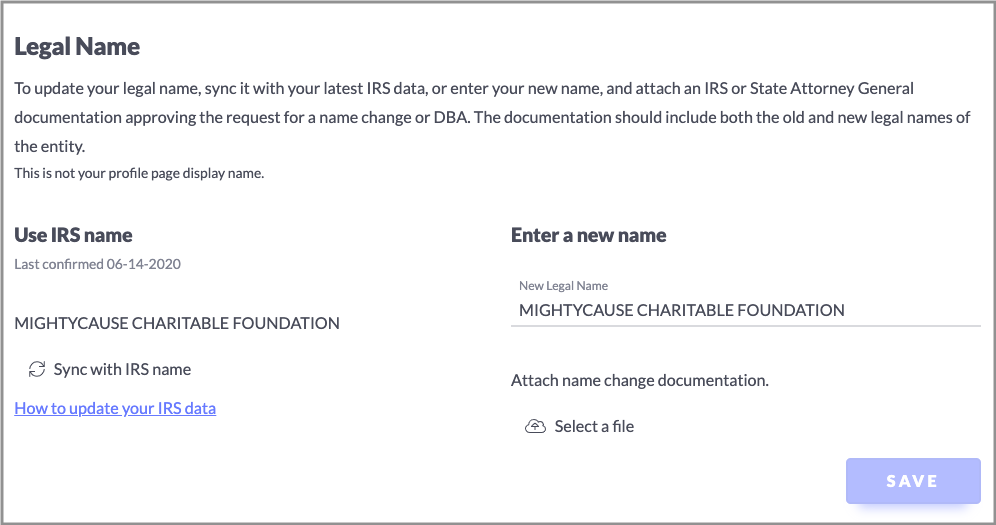 Legal Mailing Address
The legal mailing address will be used for check disbursements and will be shown on the donation receipt for your organization.
Once you are in "Organization Info" scroll down until you see your mailing address and "Legal Mailing Address"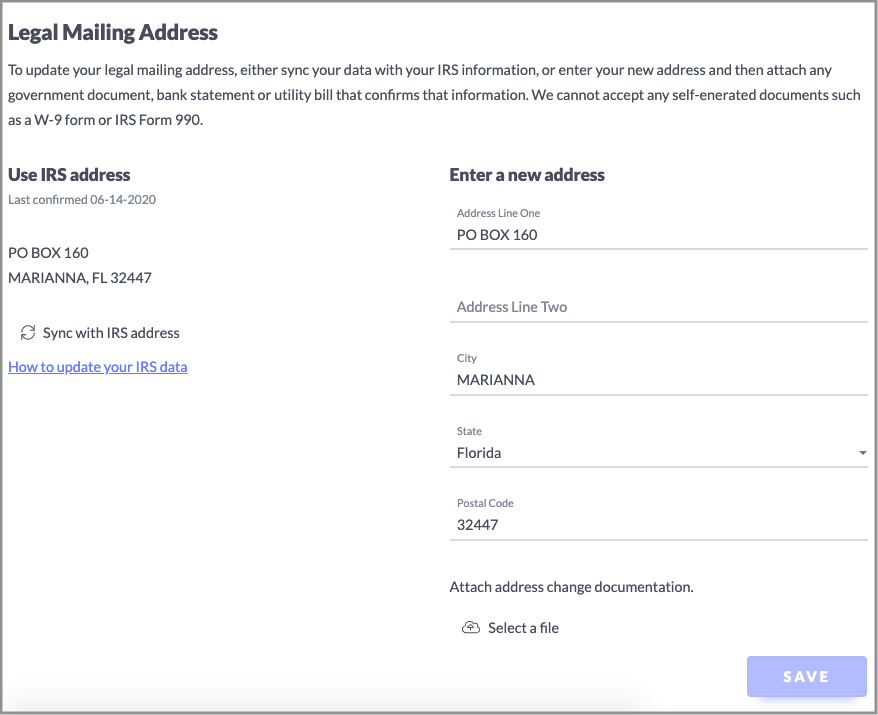 Underneath "Enter a new Address" enter the new mailing address. You will need to upload a verification document, which can be any federal or state document (sales/tax certificate), bank statement or utility bill, and must clearly list your organization's name as it is listed with the IRS and updated address. The documentation cannot be manually-filled in or generated by your organization (ex. no W-9s or donor statements).
Once you select "Save" your request will be reviewed by the Mightycause team.
If your address is already updated with the IRS, you can also utilize the "Sync with IRS address" tool to immediately updated your legal address.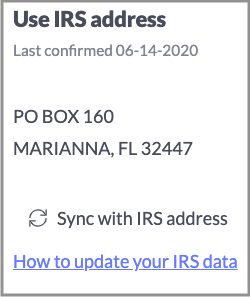 Disbursement Settings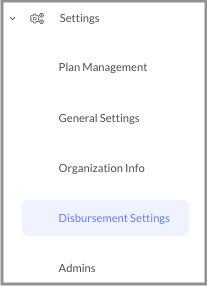 You can review and update your disbursement method under the "Settings" and "Disbursement Settings" section on your dashboard.
We recommend setting up EFT (electronic funds transfer) so you can receive your disbursements quicker, and to minimize the chances of checks getting lost or sent to an outdated address.
To set up an Electronic Funds Transfer (EFT), scroll down and click "Switch to Direct Payouts with EFT." You will be asked to enter your routing number, account number and attach a voided check/bank letter.
Once you select "Set Up EFT" your request will be reviewed by the Mightycause team. If your EFT is approved, you will receive an approval email.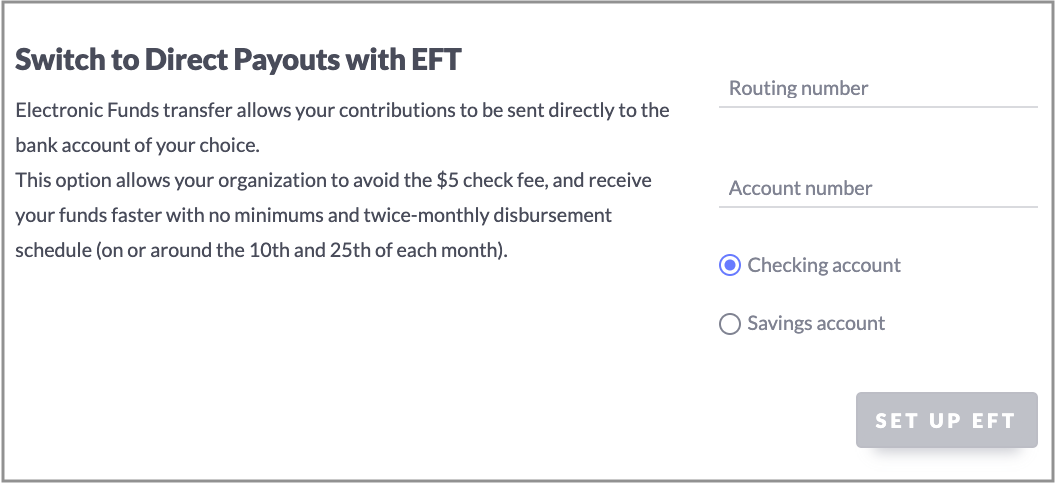 If you need to update your EFT, within Disbursement Settings and select "Edit" to submit your new EFT information.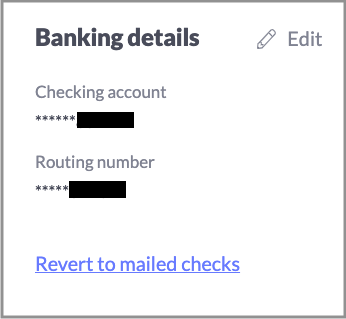 If you do not plan on setting up EFT, please make sure to re-verify your legal mailing address for checks.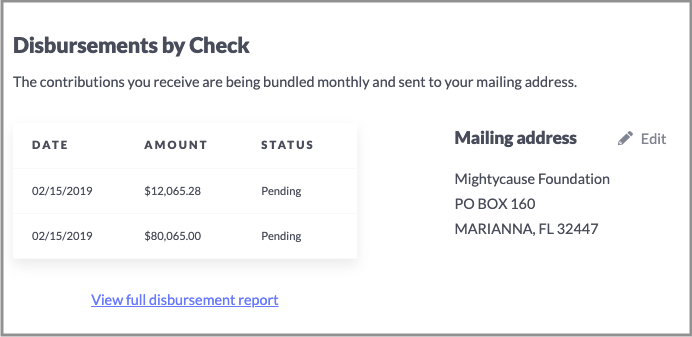 If this address is incorrect, please select "Edit" to revise your address information.
Please note, check disbursements have a $5 service fee so we highly encourage setting up EFT for your organization.
Admins
Once you've been approved as an administrator of your Mightycause page, you can add or remove other admins from the Admins section.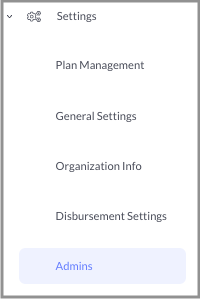 All of your current administrators will be listed here. All administrators have the same administrative control and access.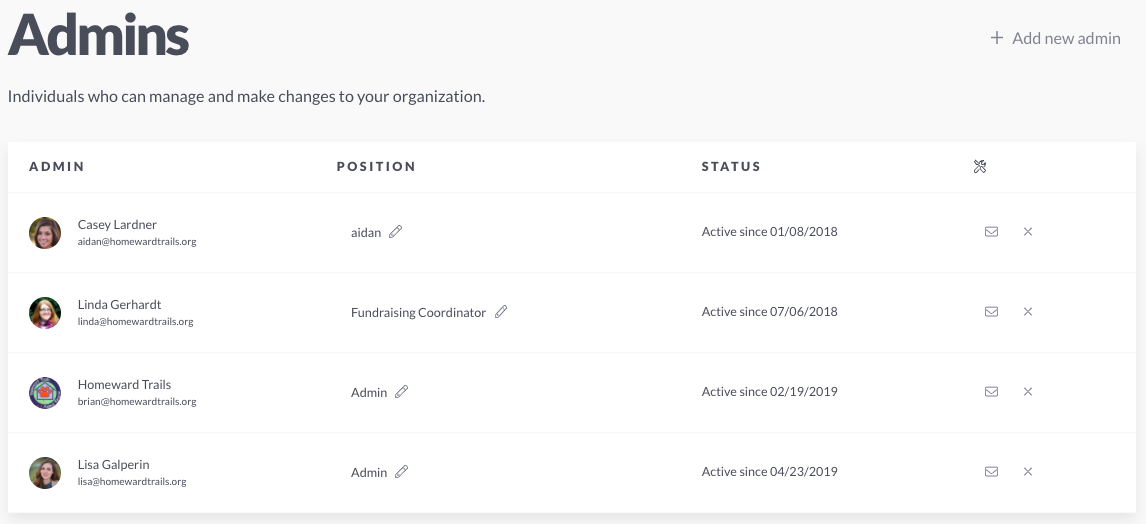 To add additional administrators to your page, select "Add New Admin"

If an individual has requested to be an administrator, you can approve or deny their request.

To approve a request, simply select "Approve."
If you would to deny a request or delete an administrator, select the grey x found within the Actions column.

Once you select the grey x, you will be asked to confirm that you want to remove the individual.

Have Questions?
If you have any questions about the features on your Mightycause organization profile page or would like help making it as amazing at it can possibly be, contact us here.